Columbia Collision Repairs Offers Auto Body Services
Auto Body Services in Surrey, BC
Columbia Collision Repairs has been Surrey's leading auto body and collision repair shop since 1982. We have an expert team of 10 certified auto body specialists who work hard to guide you through the entire auto body repair process. We strive to gain your trust and business by handling every detail, from insurance claims to repairs and everything in between.
Auto Bumper Repair
Whether you have a small dent to be removed, need the paint on your bumper redone, or require a complete bumper replacement, our qualified team is here for all your bumper services. With more than 30 years in the industry, we've seen it all; no bumper damage is too complex for us to rectify.
Auto Body Vandalism Repair
Nothing is more disheartening than getting to your car and realizing it's been vandalized. Columbia Collision Repairs offers the solution to your vandalism problem. We offer all the auto body services you need to repair dents, scratches, or broken glass. Our experts will assess your vehicle and determine the proper course of action.
Auto Glass and Windshield Repair
We are here for all your glass and windshield repair service needs. Our qualified specialist will assess the damage for windshield repair and confirm whether it will be repairable or need replacement. We also offer various auto glass services, such as headlight restoration and repair, window tinting, and Aquapel treatments, which help the visibility of your windshield.
Dent Repair
Our team is here to tend to all your dent service needs for small and large dents alike. Paintless dent repair is a service we offer, using specialized tools to restore the form of your vehicle as long as the paint is still intact. Traditional dent repair requires a more meticulous process of restoration and paint repair.
Fender Repair
Fenders are highly susceptible to damage, but don't worry; we have solutions. Once we evaluate the damage on your fender, we can determine whether it can be fixed with a simple buffing or sanding service or if it will require a replacement. Our excellent team will walk you through the entire process, providing you with quality service and affordable prices.
Hail Damage Repair
Hailstones can wreak havoc on your vehicle; in our 40+ years of servicing, we've seen it all. If you need your car repaired due to hailstones, we will be happy to assess the damage to your vehicle under our specialized shop lights, and then remove any necessary panels to access the dents and restore your car.
Paint Collision Repair
If your vehicle needs to be repainted, we are the experts to do it! We use our top-rated downdraft spray booth for an accurate paint application, and our Smart Cure Accelerated Drying System to dry your vehicle, producing a perfectly even job. We also offer an advanced waterborne curing system to cure your vehicle's new paint job, ensuring maximum results.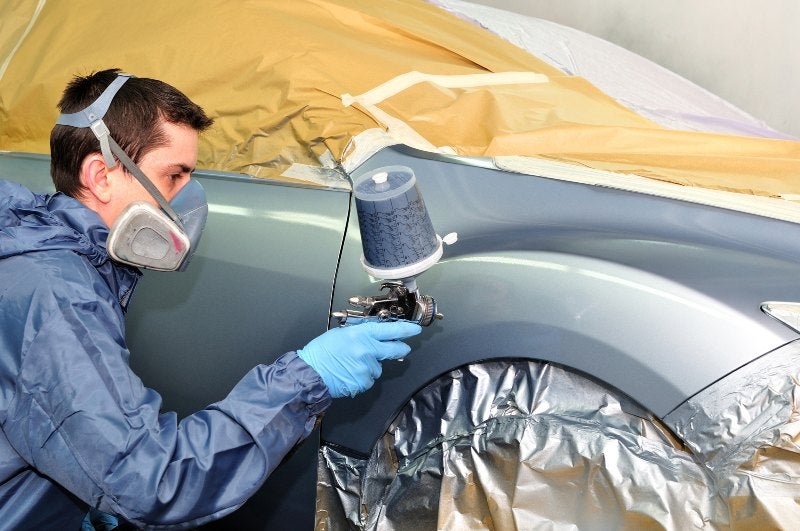 Auto Insurance Claims Process
Dealing with insurance companies is one of the many hassles associated with auto body and collision repairs. As an Insurance Corporation of British Columbia (ICBC) Valet shop, we can take that stress from you by handling your insurance claims. Our team is knowledgeable about insurance practices and will use their expertise to orchestrate a favourable outcome for you and your provider.
Pick-up and Drop-off Service
As a full-service ICBC Valet shop, we provide complimentary pick-up and drop-off services to facilitate the auto body repair process for our customers. Customer service is a key component of our ongoing success. It's our mission to make our customers' lives easier. Additionally, we also offer courtesy vehicles to ensure you are not stranded without transportation.
Drive-Through Service
At Columbia Collision Repairs, we aim to make your auto body service needs as quick and efficient as possible; that's why we offer a drive-through service. No appointment is necessary. During this service, we will get photos of your vehicle to help us assess the damage and devise a plan for your repairs.
Choose the Best for Your Auto Body Service Needs
When you choose Columbia Collision Repairs for your auto body service needs, you will get a devoted team of professionals handling your car with the utmost care and diligence. We will ensure quality work while also providing you with quality customer service, leaving you reassured that you made the right decision.
Contact Your Auto Body Service Specialists
If you need auto body servicing, you need Columbia Collision Repairs. Call or fill out our online contact form today so we can get your auto body service needs taken care of at your earliest convenience. Our friendly auto body experts are always happy to answer any questions or concerns you may have!
Why Hire Us?
Lifetime warrantee on all of our work
Fully certified & licensed staff
Family owned & operated