Reliable Auto Bumper Repair Service in Surrey, BC
Keep Your Car Road-Ready
 There are a lot of things that can happen on the road, but when you have us on the job, you will be prepared for anything. We are Columbia Collision Repairs Ltd and we have more than 30 years of certified auto body repair experience. Bumper damage may seem minor, but your bumper is your car's first line of defense. Our auto bumper repair service is affordable, fast, and our team is very knowledgeable. We can explain the different types of bumper damage and perform auto plastic bumper repair. We are the premier auto body shop bumper repair service in Surrey, BC, so bring your vehicle in today!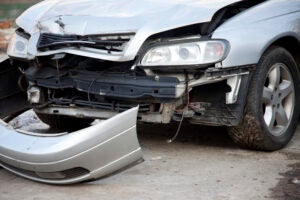 Why Do Bumpers Need Repairs?
Your bumper is built to bear the brunt of a collision. If it is already compromised, it will not provide as much protection, so you should get your bumper repaired because it is a safety issue. In addition, your bumper is often the first thing people see when they look at your car, so the condition of your bumper could color the opinion of anyone who sees your car.
There are different types of bumper repair. At Columbia Collision Repairs Ltd, we can take care of all your bumper issues, including:
Dent removal
Bumper replacement
Bumper painting
We can repair your bumper no matter what portion has been damaged. The types of bumper damage we can correct include airbag sensors, exterior lights, trim, warning systems, and more.
Choose Columbia Collision Repairs Ltd for Bumper Repair
 With more than 30 years of experience servicing the auto body needs of motorists in Surrey, BC, we have seen it all. We have the know-how and specialized equipment to take care of your auto body needs, no matter how complex. Here are just a few reasons why you should choose us for bumper auto repair:
Fast & Affordable Car Bumper Damage Repair – Did you know that you don't have to schedule an appointment with us? With our drive-thru service, you can get your bumper repaired on your schedule! We also offer very competitive prices.
Claims Help – We can help you with the auto insurance claims process. Dealing with insurance companies can be very overwhelming and frustrating, but we would be glad to walk you through the process.
Certified Auto Collision Bumper Repair – At Columbia Collision Repairs Ltd, we are certified by ICBC Valet. We assure you the best experience, professional repairs, and reliable service.
We Make the Process Easy – We offer pre-book service here on our site. You can get your repairs underway in no time with our online pre-booking feature that helps us prepare your paperwork before you even come into the shop!
Immaculate Work – Once we are done with your bumper, you won't be able to tell it was ever damaged. We take great pride in our work, and it shows with every bumper we repair.
Book Your Appointment Today
We encourage you to book your appointment with us today, or visit our shop and use our drive-thru service. We will get your car looking like new again, no matter how extensive the damage is. Request an estimate from us today!
Why Hire Us?
Lifetime warrantee on all of our work
Fully certified & licensed staff
Family owned & operated