Paint Collision Repair or Auto Painting Services in Surrey, BC
We Provide Paint Collision Repairs Services
Columbia Collision Repair operates an 8,500-square-foot ICBC accredited body shop in Surrey, British Columbia that houses state-of-the-art equipment capable of meeting all of your paint collision repair needs. Our family-owned shop has provided paint jobs for our customers' vehicles following automotive body repairs, collision repairs, or simple wear and tear for nearly 40 years. With the ability to match your existing color, utilization of advanced processes, and an accelerated drying system, we will ensure that you receive a pristine paint job so you can cruise the streets of Surrey in style.
We Can Match Your Car's Current Color Exactly
Following your auto body repair, you are likely to need a new paint job for part or all of your vehicle. Columbia Collision Repairs is happy to be your one-stop-shop for the entire collision repair process and will gladly restore your paint to its previous shine. We work directly with distributors who have every color in stock so we can expertly provide accurate color matching for your car. We also keep an impressive inventory of paints on hand. Any inconsistency in colors would be a constant reminder of your accident, which is why we make sure that your new paint matches the existing color exactly.
Our Top-Rated Downdraft Spray Booth Ensures Perfect Results
We utilize a downdraft spray booth in our paint collision repair shop in Surrey, British Columbia. This method ensures that the new coat of paint is applied to your car properly and evenly. Your vehicle will go through a professional repainting process from start to finish, with the downdraft spray booth guaranteeing perfect results. We are proud to separate ourselves from the competition by using the highest-rated equipment in the business to provide superior paint protection and finish.
Our Smart Cure Accelerated Drying System Expedites the Process
Our smart cure accelerated drying system will expedite the drying process so you can get back on the road following your paint collision repairs. After its paint job, your car will need to be correctly dried to ensure an even coat capable of providing maximum protection. Our advanced drying system will distribute heat to the surface of your car evenly and significantly reduce its drying time. As an added benefit, this method will result in a clean, sleek look.
Our Advanced Waterborne Curing System Has Maximum Appeal
After having car body repairs and a complete paint job performed at Columbia Collision Repairs, you can rest assured that your car will look fresh, and you will be proud to be seen driving it. In keeping with our commitment to never cutting corners, we use an advanced waterborne curing system to cure the paint on your vehicle. Our detail-oriented approach is a result of our dedication to providing our loyal customers with the best possible service.
Understanding the Costs Associated with a New Paint Job
There is not a set price for repainting a car. Every job will be different and have intricacies based on the make and model, the style of paint, and the scope of the work. Long gone are the days of a one-price-fits-all paint job. But among the benefits of receiving a paint job from Columbia Collision Repairs is the peace of mind that you are receiving a paint collision repair in Surrey, BC, that is designed to last for the life of your vehicle. We will typically only repaint the panels of your car that have been damaged or need auto body repairs. However, with our paint matching expertise, we will guarantee that this is done flawlessly so that there is no evidence of any collision repair work. We do not usually repaint vehicles whose paint has failed due to old age because it is not a cost-efficient measure to take.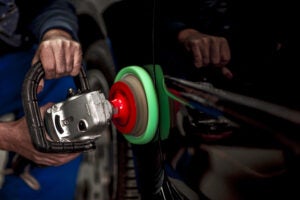 We Utilize Surface Sealer to Ensure Longevity
After you receive exceptional auto painting services from Columbia Collision Repair, you want peace of mind that the final product will stand the test of time. We want that for you, too. As part of our comprehensive automotive paint services, we offer surface sealer for each project. The surface sealer helps create a deeper, high-gloss finish, meaning that it will protect and enhance your car's appearance. Ask us about our variety of surface sealer options.
Trust Our Paint Protection and Finish Services
Our paint protection and finish services encompass products that come in the forms of surface sealers, coatings, and films. They are beneficial because they protect your car's paint from superficial damages and blemishes, increase your vehicle's resale value, and reduce your maintenance costs and efforts. Our team of technicians in Surrey, BC, will ensure your car's protection from damage and fading for years to come. Ask us about the various paint protection and finish options we have available to you.
Take Advantage of Our New Paint Care Tips
Following surface repair and a fresh coat of paint for your vehicle, it is critical that you follow our guidelines regarding new paint care so that it does not dull. You will need to allow some time for the paint to set to ensure that it maintains its natural shine. We will make you aware of all the things you must consider to preserve your perfect paint from Columbia Collision Repairs. Our suggestions include:
Do not wash your car for two weeks – For the first two weeks following painting services, do not wash your car. After the initial fortnight, you may gently wash your car with mild car soap.
Do not wax your car for two months – You must wait even longer before waxing your car. Despite our smart cure drying process, it is still wise to let the paint sit for two months.
Touch-up any scratches as soon as possible – If you notice an imperfection, touch it up or bring it to us for blemish elimination as soon as you can.
Our Staff Will Provide Superior Customer Service
At Columbia Collision Repairs, you will not deal with the headaches and hassles typically associated with auto body repairs and new paint jobs. Our expert technicians will ensure you understand the process and how we will perform your paint collision repair. Our team has decades' worth of experience and can guarantee that your paint job will be free from defects in craftsmanship and materials for as long as you own your vehicle.
Visit Columbia Collision for Paint Collision Repairs Today
We are proud to specialize in paint collision repairs for Surrey, BC residents and beyond. With an 8,500-square-foot facility, state-of-the-art equipment, and a dedicated staff that will complete your paint job with care and precision, Columbia Collision Repairs is happy to be your preferred choice for paint collision repairs. Visit our office for an estimate today!
Why Hire Us?
Lifetime warrantee on all of our work
Fully certified & licensed staff
Family owned & operated