Car Accident Repair Services in Surrey, BC
Accident Repair From Columbia Collision Repairs
Accidents happen, and when they do, things can get stressful between navigating your insurance claims and getting your car fixed while trying to continue living your everyday life. Columbia Collision Repairs understands the struggle, and is here to help you handle the aftermath of your accident with ease and efficiency.
Quick and Efficient Accident Repairs
Our knowledgeable team of expert accident repair technicians will provide your vehicle with quick and efficient accident repair services. With up-to-date certifications and state-of-the-art tools and equipment, we can facilitate your accident repair process. We can handle all types of bodywork and restoration; no project is off-limits!
Services Available at Columbia Collision Repairs
We know there are many ways an accident can occur, and we offer many ways to correct the damage caused by an accident. We provide a variety of services covering all bases, including bodywork, repairs, paint restoration, pick-up and drop-off services, and insurance assistance. If you have an accident repair problem, we have the solution.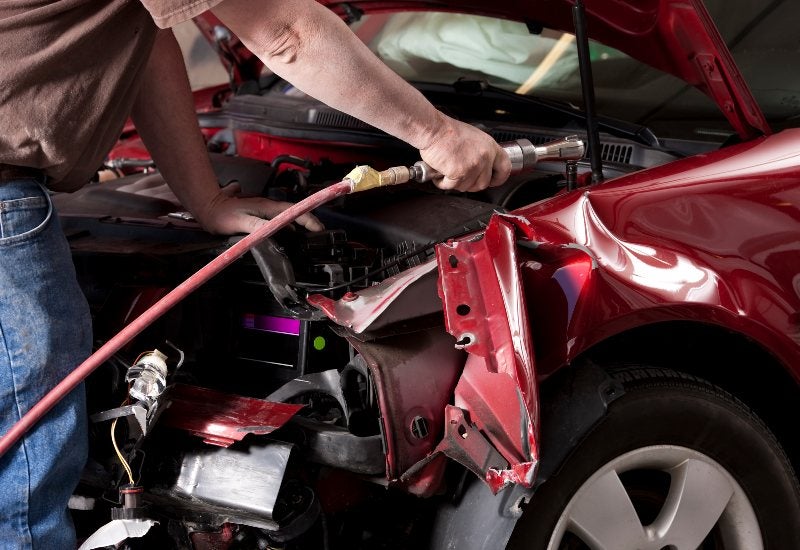 We Handle Your Insurance Claims
Over 40 years in the auto repair industry, we have seen firsthand the hassle and added stressors of dealing with insurance claims. That's why our experienced team can handle your claims for you, ensuring maximum payment for your repairs and peace of mind knowing you don't have to deal with countless phone calls and the back-and-forth insurance companies tend to put customers through.
Car Accident Repair Insurance Process
Once you report your claim, you will need to provide our team with your claim number. Once we receive your claim number, we will assess the damage and provide you with a car accident repair estimate. During this process, we speak directly with your insurance to ensure they approve the repairs. Once approved, you drop off your vehicle, and we restore it.
Non-fault vs. Your Fault Claims
No matter the nature of your accident, our repair centre will take care of your claim and vehicle, ensuring maximum comfort throughout the process. Our team will assess your vehicle and ensure proper payout coverage from your insurance provider. For both non-fault and your fault claims, we will verify if you have rental coverage in your policy; if not, we can provide a courtesy vehicle.
Hybrid Car Accidents
We are here to help you, no matter what kind of vehicle you drive, from hybrids to foreign cars. Our professional team of highly qualified experts can disarm your vehicle, ensure it is safe for repairs, and restore it for you. You can feel secure knowing our team can handle any car repair problem thrown our way.
We Provide Our Customers With Lifetime Warranties
When we do repairs, we do them properly the first time, as safety is a promise we pledge to always keep for our customers. We provide a lifetime warranty for as long as you are driving the same vehicle we serviced.
Pick-up and Drop-off Service
We do not take customer service lightly, and we want to provide our customers with the best care during their accident repair process. We understand how disheartening this situation can be, and that's why we offer a free pick-up and drop-off service for our customers who didn't opt for courtesy vehicles. We strive to make this process easier for you.
Choose Columbia Collision Repairs in Surrey, BC
Columbia Collision Repairs is a reputable repair shop with over 40 years of experience. We are known widely throughout Surrey for our quality work and friendly and accommodating team. Our entire staff is licensed, certified, and passionate about what they do. Our goal is to make the accident repair process easier for you and provide you with peace of mind.
Contact Columbia Collision Repairs for Accident Repair
Columbia Collision Repairs saves you the time of looking up "accident repair shops near me." We are right here when you need us, equipped with an expert team and ready to solve your vehicle needs. Contact us today for your free car accident repair estimate, and let's get you back on the road in a perfectly restored, safe vehicle!
Why Hire Us?
Lifetime warrantee on all of our work
Fully certified & licensed staff
Family owned & operated