Fender Repair Services in Surrey, BC
Your Friendly Neighborhood Fender Repair Technicians
At Columbia Collision Repairs Ltd, we have been serving motorists in Surrey, BC, and the surrounding areas for more than 30 years! We are committed to excellent customer service and immaculate car fender repair because the people of Surrey deserve nothing less. We are a community-oriented business offering local, affordable, and convenient fender damage repair. Whether you drive a compact vehicle, full-sized sedan, SUV, truck, van, or even an RV, we can repair your fender. We do it all, from fender rust repair to plastic fender repair and everything in between. You can bring your car to our shop and get it looked at the same day using our convenient drive-thru service. We want to make fender and auto body repair as easy as possible because we know these kinds of repairs can be stressful and expensive. If your car has fender damage, bring it into our local shop and take pride in your vehicle again!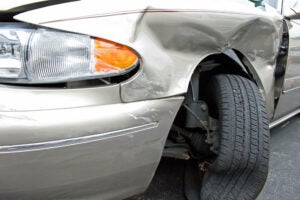 Our Professional Repair Process
There are a lot of things that can damage your car's fender. The fender is exposed to pretty much everything and bears the brunt of everyday wear and tear. Some of the most common causes of fender damage include inclement weather, rocks and gravel, runaway shopping carts, door dents, and minor collisions with fixed objects and other vehicles.
Our detailed fender repair process will get your car looking like new again. It starts with a thorough evaluation of the damage. If there are just a few dings and scratches, they can be buffed or sanded out. However, for more extensive damage, the whole fender may need to be replaced. We also offer paint repair services for all kinds of vehicles. No matter what the case may be, you can count on excellent customer service throughout the entire process. We will let you know exactly what your car needs without trying to upsell you.
The Columbia Collision Repairs Ltd Difference
Take a look at what sets us apart from other auto body repair shops in Surrey, BC:
Affordable Prices – We aren't trying to upsell you at every turn. We want to build lasting relationships, so we price our services affordably and are always honest with our customers.
Convenient Service – We know you can't be without the use of your vehicle for very long. That's why we offer drive-thru service and online pre-booking to get the repair process started sooner.
Experience – Our shop has been here in Surrey, BC, for more than 30 years. Our team of certified auto body repair specialists has considerable experience, and we put that experience to work for every car that comes into our shop.
Amazing Work – At the end of the day, you won't be able to tell that your fender was ever damaged. Columbia Collision Repairs Ltd pride itself on perfect repairs and beautiful results.
Contact Columbia Collision Repairs Ltd
Visit us today and find out why we have been a customer favorite for nearly four decades!
Why Hire Us?
Lifetime warrantee on all of our work
Fully certified & licensed staff
Family owned & operated