Pick-Up & Drop-Off Service by Auto Body Repair Shops in Surrey, BC
Columbia Collision Repairs Offers Pick-Up & Drop-Off Services
When you bring your car to Columbia Collision Repairs Ltd. for bodywork, painting, or collision repair, you are in good hands. As an Insurance Corporation of British Columbia (ICBC) Express Valet Shop, we do everything we can to make the process as easy as possible for you. That includes picking you up and dropping you off at our Surrey location when you need auto body repair services. Call us today to learn more about the perks of receiving auto collision repair services through Columbia Collision Repairs.
Benefits of Our Pick-Up and Drop-Off Services in Surrey, BC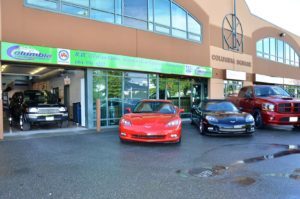 Our team is committed to providing unrivaled customer care at our autos body repair shops in Surrey, British Columbia. We want our reputation for customer service to be equally as exceptional as our reputation for delivering high-quality body repair following collisions. To help guarantee that, we offer free pick-up and drop-off services. These services ensure you will not have to rely on friends or family to bring you to our 8,500-square-foot collision repair center or spend money on a cab to get you here. And once you arrive, we can help arrange a courtesy vehicle to help you get around town while we perform auto body repair services. We are happy to take care of you and reduce any inconveniences associated with car repairs or auto painting.
Take Advantage of All Our Services
Courtesy vehicles are not limited to customers who are receiving specific types of car body repairs.  Regardless of your circumstances, being without a car for multiple days at a time can be burdensome.  Therefore, we are happy to help you stay on the road even if your personal vehicle is undergoing paint collision repair services. And to streamline things even more for you, we will handle all your insurance claims for you.
Call Columbia Collision Repairs Today
If you are involved in a car collision that severely damages your car, rely on Columbia Collision Repairs for auto painting and automotive body repairs services. We make the entire auto collision repairs process easy for you. We will handle your insurance claims, provide unmatched vehicular care, and even shuttle you to and from our facility. Our pick-up and drop-off services extend to all our customers, so ask about them today. Contact us to learn more.
Why Hire Us?
Lifetime warrantee on all of our work
Fully certified & licensed staff
Family owned & operated