Hail Damage Repair Services In Surrey, BC
Don't Let the Weather Ruin Your Car
At Columbia Collision Repairs Ltd, we want you to know that you don't have to put up with dents to your car made by hail stones. Dents large and small can be erased with our hail damage repair service. It's important to protect your car, and to know what you can do to prevent hail damage, and what to do when your car gets damaged in a hailstorm. We offer world-class car hail damage repair. Hailstorms are becoming more frequent in BC, so be sure your car is protected and have our number handy in case your car is damaged. Restore the beauty of your car today!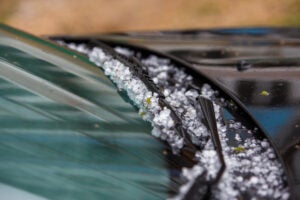 Our Hail Damage Repair Process
Hailstones can be very dense, and cause dents of many shapes and sizes on your vehicle. In most cases, since hailstones are heavy, they fall straight down. This means that the top panels of your car sustain most of the damage. However, if the wind is strong enough, it can blow the hailstones sideways, causing damage to the doors, quarter panels and even the windows. Hailstones can also scratch and puncture your auto paint. Our auto hail damage repair process is methodical and yields real results. Look at some of the key elements of our hail damage car repair process:
Assessment – We use powerful shop lights placed strategically around your vehicle to assess the damage and see your car's panels from every angle to determine the extent of the damage.
Removal – We remove any necessary pieces of the exterior (and interior, if necessary) to gain easy access to the dents.
Dent Repair – When applicable, we use paintless dent repair techniques and tools to return the panels to their original form.
Tips on Auto Hail Damage
You may be asking yourself what you can do to prevent auto hail damage in the first place. There are some effective ways to prevent auto hail damage, and here are some of the best methods:
Covered Parking – By far, the best way to prevent hail damage is to park your car inside a garage or in a car port before a storm.
Moving Blankets – Moving blankets are thick, and you can drape them over your car to protect it from hail damage.
Portable Storm Protectors – You can also invest in an inflatable car cover or mobile car tent to prevent hail damage.
Contact Us Today
What do you do when you discover hail damage on your car? The first thing you should do is get in touch with your insurance provider because some policies cover hail damage. The second thing you should do is call us at Columbia Collision Repairs Ltd. We have one of the most experienced teams of auto body repair technicians in Surrey, BC, and no hail damage is too extensive for us. Get an estimate for your auto hail damage repair today!
Why Hire Us?
Lifetime warrantee on all of our work
Fully certified & licensed staff
Family owned & operated