Dent Repair Services in Surrey, BC
Innovative Dent Repair Service
 One of the things we pride ourselves on here at Columbia Collision Repairs Ltd is the fact that we use state-of-the-art techniques and equipment. This is evident in our dent and scratch repair service. We utilize an advanced paintless dent repair process that will get your car looking brand new again. But what is dentless paint repair? Find out here or simply pick up the phone and talk to one of our auto body repair experts.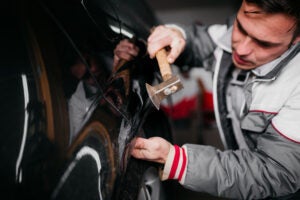 The Benefits of Paintless Dent Repair
Paintless dent repair is a method that, as the name implies, does not require any paint. As long as the paint of the vehicle is intact, we can use specialized tools to restore your vehicle's body to like-new condition. Here are some of the key benefits to paintless car dent repair:
Quick – Because no painting is required, paintless dent repair can be completed in half the time compared to dent repair involving paint.
Eco-Friendly – Auto paint isn't the most environmentally-friendly material. Our paintless dent repair service doesn't use any paint, so it has less impact on the environment.
Affordable – Thanks to innovative paintless dent repair methods that cut down on materials and time, this service is more affordable than traditional dent repair.
Effective – Our paintless auto dent repair service is extremely effective. With cutting-edge equipment in the hands of our experienced auto body specialists, we can perfectly repair dents in multiple areas of your vehicle.
Our Meticulous Process
We take great care when it comes to auto body repair. Whether it's traditional or paintless dent repair, our process is meticulous. Some of the highlights of our auto dent repair process include:
Removal of Key Components – Dents don't only affect the surface components of your vehicle; they can go deeper. In order to fully correct the issue, we remove components like taillights, interior panels and body panels.
Restoration – Using advanced equipment, we restore the damaged area to its original condition.
Paint Repair – Not all dents are eligible for paintless dent repair. If the paint has been punctured, you can rely on us to correct the paint after the dent has been taken care of.
Inspection – Our job is not done until we are 100% confident that your vehicle has been restored to like-new condition. Once repairs have been completed, your vehicle undergoes a multi-point inspection to ensure quality.
Work With the Best
Why choose Columbia Collision Repairs Ltd for paintless dent repair? So many of our first-time customers become repeat customers because we do quality work every single time. We understand the passion and love you have for your vehicle, and we share that passion. We want your vehicle to look good, and we have a full team of trained and certified auto body specialists with immense collective experience. Our shop is equipped with the latest tools and machinery to offer a higher level of excellence to our customers. Simply put: when you work with us, you're working with the best. Make an appointment today!
Why Hire Us?
Lifetime warrantee on all of our work
Fully certified & licensed staff
Family owned & operated