Auto Glass Repair or Windshield Repair Services in Surrey, BC
Professional Auto Glass or Windshield Repair and Replacement Services for Your Vehicle
At Columbia Collision Repairs Ltd., we want you to drive safely with a clear windshield. If your windshield has chips, cracks, or any other damage, you don't have a perfect view of the road. An obscured view puts you, your passengers, and other drivers at risk. Our auto body repair shop in Surrey, BC, helps you maintain an unobstructed view of the road and surrounding environment with auto glass repairs, including windshield repairs. Besides safety concerns, damage to your auto glass or windshield also tarnishes your vehicle's appearance and lowers its value. Cracks and chips may look harmless enough, but they compromise the integrity of your glass and can spread across the panes, eventually leading to a completely destroyed windshield or window. Don't neglect damage to your windshield and auto glass and take your chances with flying rocks and temperature changes. Our technicians carefully assess your auto glass to determine the best action. Repairs might be all it takes to restore your windshield, windows, or headlamps. However, if a replacement is necessary, we'll make sure to install your new glass perfectly the first time to help you get your car back on the road. Reach out to us for a free estimate on auto glass repair & windshield repair services in Surrey, BC.
Repairing or Replacing Your Windshield
Small chips and cracks might simply require repairs to restore your windshield, but many cases call for a complete replacement. Our technicians know what to look for to decide on the proper service. If we need to replace your windshield, you can count on us to provide quick and safe service. We have the necessary training and state-of-the-art equipment to change out the glass, even if it's in rough shape. Your safety behind the wheel is our priority. Replacing your windshield gives it the specialized attention necessary to properly adhere to your vehicle with a tight seal using specialized tools and high-quality auto glass. Not all windshields need replacement, so we help you save money and see clearly with expert automotive body repairs to minor damage. When you get a chip or crack, you must get it fixed as soon as possible to prevent the damage from getting worse. We provide windshield repairs as long as the damage fits the following description:
The chip is no larger than a loonie.
There are at least four centimeters of space separating the windshield's edge from the point of impact.
The chip doesn't fall in the driver's line of vision, which is located just above the steering wheel and about 30 centimeters wide.
The only damaged part of the windshield is the outer layer of glass.
You have a maximum of three chips that you need to be repaired.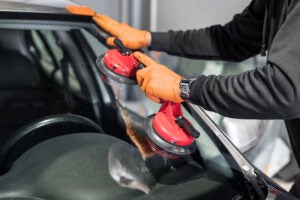 What Other Auto Glass Services Do You Provide?
Repairing and replacing your windshield and auto glass aren't the only ways Columbia Collision Repairs Ltd. can help you drive safely and see clearly. We offer other services to reduce the hazards of debris, inclement weather, and aging on your windshield, windows, and headlights. Our technicians will gladly provide you with any of the following services:
Headlight Restoration and Repair – Having clear and bright headlights is an invaluable part of driving at night, and older lights might have lost some of their brightness. We fix cracks, chips, and discoloration to restore your headlights after years of exposure to sun, rain, and snow. You can avoid having to replace them and get back the brightness you need to see when the sun goes down.
Window Tinting – The sun's harmful ultraviolet (UV) rays can damage the inside of your car, including the upholstery and dashboard. Sunlight may also blind you while driving. Window tinting cuts down the glare and keeps your car cooler while it filters the UV rays, preserving your car's interior and letting you drive safely and comfortably.
Aquapel Treatment – Rain, snow, and debris can build up on your windshield and windows and negatively affect your vision while driving. At night, your ability to see through the glass can be even worse. We apply Aquapel to your windshield, which effectively helps you see clearly by repelling water and debris from the glass.
Make Your Auto Glass Repairs and Windshield Repairs a Worry-Free Experience
At Columbia Collision Repairs Ltd. in Surrey, BC, our mission is to take the stress and worry out of your automotive services. For auto glass and windshield repairs and replacements, our ICBC accredited body shop uses our years of expertise and outstanding customer service to ensure you receive quick and thorough repairs without the hassles of extended periods without a car and high costs. To enhance the ease of working with us, we also handle every part of the auto body insurance claim process in Surrey, BC. Contact us when you need quality repairs for your windshield or auto glass in Surrey, BC, and we'll give you an estimate on the work your vehicle needs. Contact us today for auto body repair & collision repair services in Surrey, BC.
Why Hire Us?
Lifetime warrantee on all of our work
Fully certified & licensed staff
Family owned & operated