Insurance Claim Process for Auto Body and Collision Repair in Surrey, BC
We Handle Insurance Claims for Surrey Auto Body Repairs
With close to four decades of experience, the team at Columbia Collision Repairs Ltd. can handle all aspects of your auto insurance claims so that you don't have to worry. Trying to get payment on your auto insurance claim can involve phone call after phone call, and securing the full payment that you deserve according to the terms of your policy can be an enormous hassle and a headache. Many people who try to do it on their own finally give up. They might face accepting little or nothing and being forced to choose between paying the bill themselves or having less work done than what is required to restore the vehicle. Our auto body shop believes you shouldn't have to deal with the runaround from your insurance company, so we take that burden off your shoulders. We handle every aspect of the auto insurance claim process in Surrey, BC so that you can concentrate on keeping your daily life running smoothly, instead of verbally wrestling with the insurance representative. This is a service we're proud to offer all customers who bring their vehicles to our auto body repair shop in Surrey, BC,.
Don't Compromise with Your Insurance Company
Columbia Collision Repairs Ltd. in Surrey, BC, strives to make every driver's auto body repair as convenient and worry-free as possible, including claims assistance to help you get your automotive work covered by insurance. We are an Insurance Corporation of British Columbia (ICBC) facility, which means we meet ICBC's requirements for an automotive body repairs facility. Our expertise and comprehensive service options make us a one-stop-shop for your repairs and the only place you need to go for an estimate. If you have an auto insurance claim through ICBC, you just need to call them for the claim number, and we'll take care of things from there. If you have private insurance, such as Family Economic Insurance or Canadian Direct, our ICBC accredited body shop can also work directly with them on your claim and estimate. All we need from you is your claim number. When you call Columbia Collision Repairs Ltd. for your auto body repair & collision repair in Surrey, BC, we offer you the following services:
We accept ICBC claims.
We work with most other insurance companies in British Columbia as well as out-of-province insurers.
We may be able to help you take advantage of rental coverage on your policy, but if not, you can drive one of our courtesy vehicles.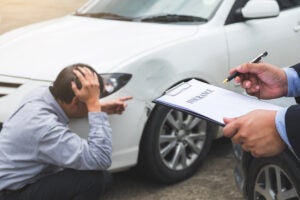 What is the Process for Claim Repairs?
The process to repair your vehicle when you file a claim is simple, and we take care of your claim so that you don't have to worry about it. We work with your insurance to create an estimate and cover your repairs, whether you're insured through ICBC Valet shop or you have private insurance. Below is the process for your auto insurance claim and car body repairs:
Report Your Claim – After reporting your claim, you'll get a claim number from your insurance provider. We need the claim number before we can provide an estimate on the repairs your vehicle needs. You can call us or stop by our facility to give us the claim number.
Get a Repair Estimate – Once we've received your claim number, the next step to perform an inspection of your vehicle. We check all the dings, dents, and other damage and separate the issues related to the incident from those not related. We'll explain the repair process step-by-step, photograph the damage, and collaborate with your insurance provider to ensure they approve the repairs. After that, we'll provide an estimate.
Drop Off Your Vehicle – On your appointment day, we can arrange a courtesy vehicle, so you can still run errands, go to work, and get around town. You'll have a full tank of gas when you receive the courtesy vehicle, and we ask that you fill the tank before returning it.
We Perform Your Repairs – Once we have your vehicle in the collision center, we'll disassemble it to reevaluate the damage. If we find more damage than we noted in the estimate, we'll write and submit a supplement report for any additional parts or work and update you on any changes. After we finish the repairs, we'll contact you for the final inspection so that you can take your car home.
Contact Us for Collision Repair Claims
The experience of dealing with insurance adjusters and claims representatives can be a trying one, but it's not one that you have to face alone. Our team of friendly and caring automotive professionals is there for you when you need vehicle repairs without additional stress and hassle. We understand your frustration with having to deal with insurance to get your repairs covered after a collision, vandalism, or another unfortunate incident. To ensure you get the best service possible without unnecessary headaches, we gladly deal with your insurance for you. Contact us now and get Columbia Collision Repairs Ltd. on your side!
Why Hire Us?
Lifetime warrantee on all of our work
Fully certified & licensed staff
Family owned & operated